Today was kind of a strange day. But then most of mine are. So how was this day strange? Partly because it started in the Rio Grande Valley as planned and ended up in Austin TX which was not planned. I got up early so as to be at the Rio Grande River well before sunrise. The amazing owner of the motel and sundries store was already in place. In fact he had a hot cup of coffee waiting for me when I walked in to say hello and tell him I'd be back before noon to drop off the key. He's the kind of guy you feel you've known a long time. We actually did meet him in January when we came this way our first time. Nothing seems to rattle him and he seems to love being at work and chatting up all the customers. Fishermen are apparently his most numerous patrons. The impounded lake behind Falcon Dam is covered with boats particularly during a fishing tournament.
As I drove down to the river in Salineno, I noticed a car coming up behind me. I figured it was the Border Patrol. When I reached the river there was a car parked there with a sleeping driver. I parked, got out, listened to the weird Eastern Screech-Owls they have in the RGV, plus a pair of Great Horned Owls. I noticed that the car that had followed me to the river disgorged a bearded guy sporting a pair of binoculars. The sleeping driver emerged also wearing a pair of binos. You might imagine a trio of druggies coming together in the dark on the banks of the Rio Grande River, but just as logical would be a triad of birders, unified by a common goal of seeing rare birds. One was a young college biology prof from Oregon, here on his spring break which had been extended somewhat since his college forced a week of furlough on him and his colleagues to save money. The other birder was a Dane who was spending an extended time in the American southwest. We all watched with some anxiety the heavy mist hanging over the river. Unless a breeze came along to get rid of the mist, there wasn't much of a chance to see the Red-billed Pigeons or my Muscovy Ducks. The mist did lift, but there were no pigeons. The Oregonian left and after a while the Dane and I tried the trail along the river following some directions provided by Terry Jenkins. The final destination looked great for the ducks, but alas there were none to be seen. We'll make our final duck assault when we return to Texas in May.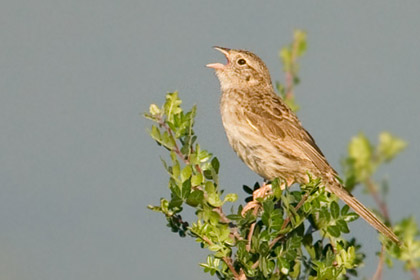 The Dane needed Audubon's Oriole for a lifer. I heard one singing, found it, put it in the scope and he had a lifebird. He then mentioned that he needed Cassin's Sparrow. Since I had heard a bunch on the Salineno shortcut, I took him there where I again found about half a dozen singing sparrows (web photo). This time one of them tried a couple of songs while in flight. When they get going, that song on the wing is a true spectacle. They should all be doing it when we return in May.
I took the room key back to my buddy at his store after changing out of my long johns. I'm glad I thought to put them on. It had been 37F this morning at the river. I set a course for Beeville TX where a Northern Wheatear has been hanging out on an Amish farm since the first of the year. John and I stopped by in January for a brief try and missed it on what must have been one of the very few times it wasn't available. Today however it was extremely cooperative and it became the first year bird of the day. We'll see this bird in Alaska. So why did I go for it today? One reason is the Mt Everest reason: Because it's there. A second reason: Because we missed it in January. A third reason: It's a great bird for my Texas list (2nd record). A fourth reason: Because I needed a bird for the list and I didn't want to post another no new bird day!!
From there I headed to Austin where I would look for those recently arrived Golden-cheeked Warblers in their city park. I was given this location by Barbara Zaslow, the birder from Austin I met at the King Rail spot last week. However, in one of those twists of fate, or bad planning (I'll let you choose which) I got to Austin at rush hour. It was late by the time I got to the park. Grabbing my binos, I hopped out of the car and what do you think happened? A Golden-cheeked sang! But horror of horrors I couldn't locate the bird. I started along the nearby trail. Another Golden-cheeked sang. I couldn't find that one either. I pished, squeaked, gave my best Screech-Owl whistle. Nothing moved. So I got back in the car, embraced half a victory, and drove to a motel. I'll do battle with the warblers again tomorrow. It's too beautiful a bird to miss seeing it. Tomorrow afternoon I fly home out of San Antonio so there's plenty of time. The two new birds bring the list to 427 for the year.